Our Holiday Scent Collection is live! Be the first to scoop up the new goods before they sell out
New products have just landed! So many new sustainable self care goodies.
Shop all of our favourite environmental friendly, locally made, all natural products
Refilling at Without Co.
Refilling is why we started, and it's what we love to do. So if you're in Calgary, bring some bottles, jars, jugs and come on in! We handle all of the filling for you. You just tell us what you want in them and we do the rest.
From soaps, lotions and hair care, to cleaning products, laundry detergent and more. We have 50+ bulk products.
Good for your wallet, good for your home, good for the planet.
Learn More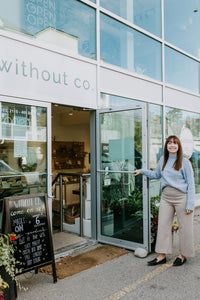 Our store
103 2115 4th Street SW, Calgary Alberta
(tucked behind Hot Shop in Mission)
We are OPEN!  Open for general shopping, refills and pick ups: 
Monday - closed
Tuesday - 11am to 6pm
Wednesday - 11am to 6pm
Thursday - 11am to 6pm
Friday - 11am to 5pm
Saturday - 11am to 5pm
Sunday - 11am to 4pm
Timelines
Just so you know when you'll get your order.
Pick up orders are ready the next business day (at the latest!)
Calgary delivery: we deliver same day Tuesday through Saturday each week. Order cut off time is 11:00 am for same day delivery, otherwise it will be delivered on the following day.
Shipped orders will be sent out next business day.